Colleges throughout Scotland share the love during St Valentine's week
Colleges across Scotland are launching their annual #LoveScotlandsColleges campaign this week in time for Valentine's Day, and South Lanarkshire College are celebrating the vital role played by colleges right across the country.
The week-long campaign kicks off on Monday 13 February and will highlight the outstanding work of colleges throughout the country and see them showcase all the important courses and training they offer to provide skills and training to Scotland's workforce now, and the workforce of the future.
The campaign will promote a theme for every day of the most romantic week of the year covering:
College Love is… Giving Back

(Community) Monday 13 February

College Love is… Our Partners

(Businesses, Industry, Elected Members) St Valentine's Day

College Love is… Learning

(Fundamental reason for Colleges) Wednesday 15 February

College Love is… Our People

(Students, Staff, Alumni) Thursday 16 February

College Love is… All You Need!

(Encompassing everything) Friday 17 February
As the brainchild of the CDN Marketing and Communications Network, this third annual collaborative, joined up campaign is supported right across the college sector. It will highlight national and local examples of how colleges are supporting students, communities, businesses, staff and the economy.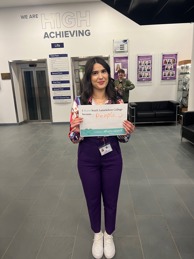 Rahela Calin, Student President, and former Hairdressing Student, comments "I absolutely love South Lanarkshire College because of all they do to support students from across the world in a supportive and inclusive environment. We have students from all over the world studying with us, including students from Ukraine, Poland, Afghanistan, Pakistan and Syria and it really does create a brilliant College experience. I couldn't recommend studying at College enough – they really do change people's lives! I can't wait to hear more about the love our students and others have for South Lanarkshire College during the week."
Jim Metcalfe, Chief Executive of College Development Network (CDN), said: 
"After the great success of last year's #LoveScotlandsColleges campaign, we're delighted to hold our campaign around Valentine's Day.
"Colleges are at the heart of their communities and year on year they are showing how much they care about the education, development and training of the people they serve. They are essential to nurturing the next generation of professionals, tradesmen and women and skilled, work-ready graduates, who will go on to help the Scottish economy grow in the years to come.
"This campaign is a celebration of all that the sector does, and a way to shout about the fantastic, transformative work undertaken by colleges every day. Colleges help students achieve their future goals, regional economies to strengthen, and they are helping Scotland build a sustainable, net zero future. More recently, colleges up and down the country have been at the forefront of helping their communities through the cost of living crisis this winter by offering warm areas, free breakfasts for students and advice.
"The college sector loves to educate, support, upskill and train learners. What better time to show all that than around St Valentine's Day. I can't wait to see even more inspiring examples of what the sector does through the #LoveScotlandsColleges campaign."
Shona Struthers, Chief Executive, Colleges Scotland, said:
"Scotland's colleges are without doubt the beating heart of post school education and training that makes this country a vibrant, exciting and innovative place to live and work.
"The growing industries Scotland has now from tourism and hospitality, to construction and healthcare, are all staffed by skilled college graduates who are supporting our economy and our communities. And industries set for future growth like e-sport, green energy generation and new forms of transport will flourish because of the contribution of colleges.  
"It's really important that we raise awareness of what our sector does so well through the #LoveScotlandsColleges campaign. I encourage everyone to share that love throughout this important week. When colleges thrive, Scotland thrives."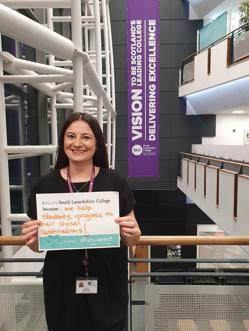 Stella McManus, Depute Principal at South Lanarkshire College, commented "It is brilliant to see this collaborative campaign being promoted across the country to showcase all the reasons why we love Colleges. Colleges are at the heart of their communities, supporting students, local businesses, schools and the economy. I am extremely proud to work in a sector and institution that prioritises creating a better Scotland and world, through outstanding learning and teaching that gives our students the best possible opportunities for progression to further study, University, employment or training. I love South Lanarkshire College and I #LoveScotlandsColleges"
Join the conversation - #LoveScotlandsColleges - and find out about the important work of Scotland's colleges.
www.cdn.ac.uk/love-scotlands-colleges-2023/