Why should I study brickwork?
With the rise in house building across Lanarkshire and Scotland, the need for trained and skilled bricklayers is in high demand with many opportunities for employment in the industry.
Within the industry you'd build and repair walls, chimneys, tunnel linings and archways to make people's homes and other buildings safe,and protected from the weather.
You might also refurbish brickwork and masonry to restore old buildings. It's likely that you'd work on extensions to people's homes to give them more room without moving house.
With a salary of up to £40,000 per year and over 61% of those in Scotland working as self employed, there are ample opportunities within this trade. 
What jobs can I get in this area?
You can get work as a bricklayer in the construction sector, either within a company or as a business owner or self employed.
Once you have gained experience in the industry you can choose to specialise in a particular area such as site management. 
How are the courses taught?
You'll be taught in our purpose-built workshops by experienced staff from the industry. Our brickwork courses introduce you to bricklaying techniques such as decorative brickwork and the safe use of hand-tools and equipment. You'll learn about the construction industry and gain practical, technical and transferable skills.
What courses does the college offer?
We offer brickwork courses at different levels. All our courses prepare you for employment in industry or for further training or qualifications.
Find the course
for you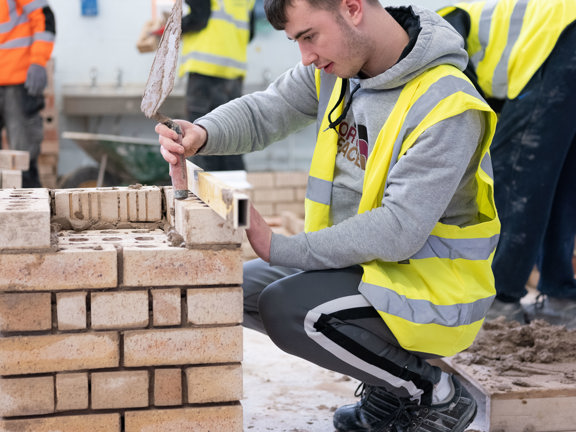 Advanced Craft Bricklaying
Take your career to another level with our Advanced Craft Bricklaying course